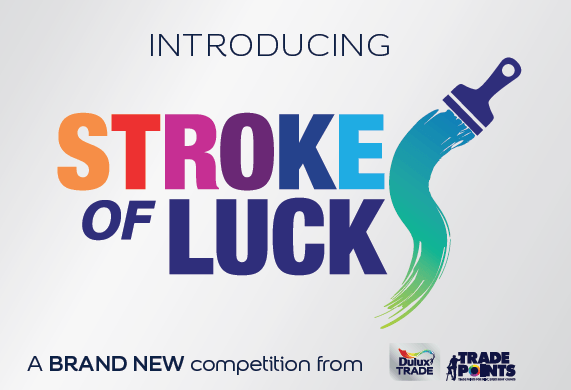 You asked and we listened!
And we're delighted to introduce you to the kind of competition you asked us for:
1 More chances to win each month
2 More prizes
3 And lots more winners
Taking part couldn't be EASIER!
Every month there'll be a new challenge and new monthly prizes. So watch out for our monthly Stroke of Luck emails and text messages, as they'll contain the latest challenge and the prizes that are on offer.
---
MAKE SURE you've opted in to receive Email and Text Communications from us, by contacting the Dulux Trade Points Helpdesk: (01) 893 4992
---

In this month's Stroke of Luck competition, we're giving away THREE personal shopping trips in Paris for two people, including flights, 2 nights at a 4-star hotel, private shopping tour and €500 spending money, worth 100,000 points.
For you chance to WIN one of THREE personal shopping trips to Paris for 2, follow these simple steps:
1. Decide how many of your Trade Points from your Dulux Trade Points Account Balance you would be prepared to bid for this trip of a lifetime.
2. Text TRADE followed by your FULL NAME and points bid to 51155 (e.g. TRADE John Byrne 12000 points) before 5pm, Monday 16th December. 
3. The three highest bidders will each win a personal shopping trip to PARIS and the points will be deducted from their Trade Points balance. 
IT'S THAT SIMPLE! 
CLICK HERE TO VIEW LAST MONTH'S WINNERS
View the December Stroke of Luck Terms & Conditions here