Interior Colour Specification: Nothing is more inspiring than colour 
Join us on either the 27th, 28th or 29th of October and allow colour to help sell your craft! Also when you buy some of our interior products this month in your Homestore you can earn DOUBLE or TRIPLE points – view them here! 
Let us share some insights to allow you to specify interior colour with confidence. During this Academy session, we will focus on what works, where, and why in the land of interiors.  This session will help you to manage and empower the client on deciding colours that will deliver on their transformation expectations.
A new colour scheme is the simplest, most effective way to transform a space in any building. But with so many colours and a host of other factors to consider, choosing can be a daunting process. It's easy to be tempted by uninspiring, "safe" colours, but we can help you make the most of the true transformational power of colour.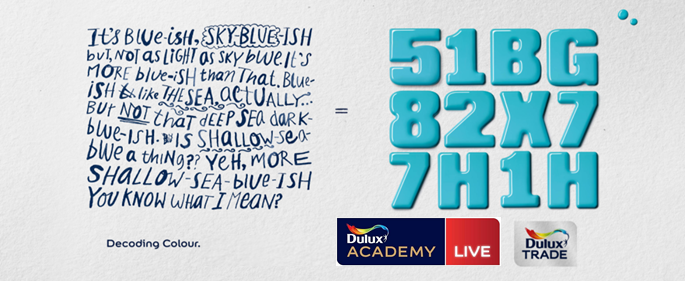 What you can expect from this Academy Session:
◊ Hue, LRV, and Chroma – magic components of our colour system – knowing these will help you to understand colour and indeed how to guarantee a good choice for your client.
◊ Help your client find the colour they want with the benefits they need – Guide them so that they make the decision
◊ We will share insights to make it easy to help your client in the interior colour space and deliver expertise.
◊ We will share our top colours that we know your clients love and they keep requesting.
◊ Did you know that we have broadened our colour offering? If you find a colour in our colour card, you can now get it mixed in a range of finishes to suit a wider range of your clients' needs!
◊ Do you get questions about the enduring colour that is grey? We will demystify the Dulux Greys.
◊ We have some tools that you can also direct your client to, to help them on the colour journey and to give them further direction so that you can place an order and start the project. All of which are free. Join us to find out more.
◊ Did you know we have a colour team live on our social channels? Drop them a line if you have any colour conundrum's or send your client there if they are struggling with the world of colour.
Looking forward to chatting about interior colour for your clients, The Dulux Academy Team